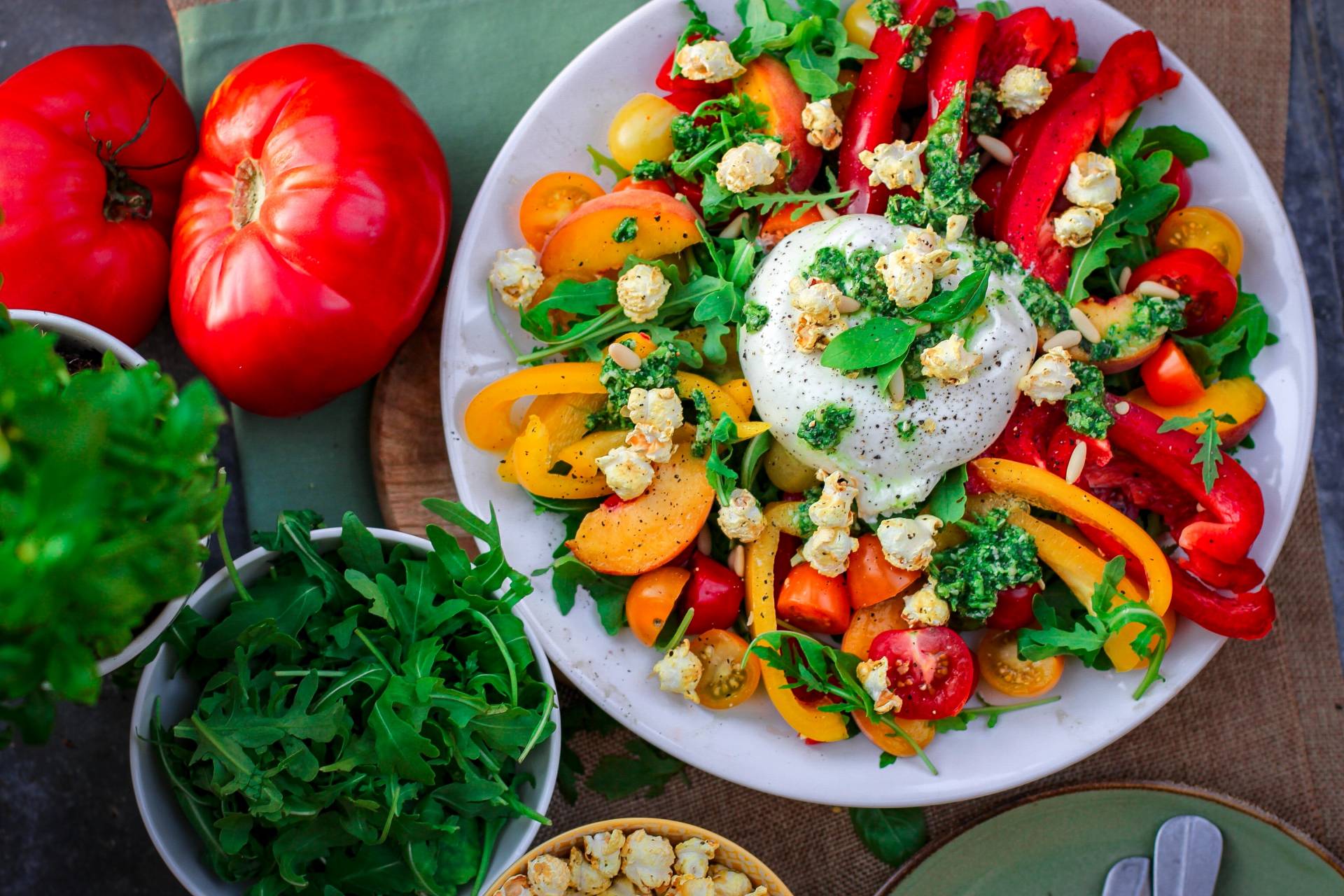 It's no mystery that there are many foods with proven benefits for your immune system. When you consume these foods, it helps support our body's acute inflammatory response (the one that's part of a normal and healthy part of the healing process). These same foods are also important for a healthy gut, which also strengthens your body's immune system.
Chronic inflammation, on the other hand, is the body's response to constantly needing to fight a perceived infection. Over time, the immune system can't handle this burden, which can result in an increased risk of certain diseases like heart diseases, type 2 diabetes, obesity, and some cancers.
While there is no specific "anti-inflammatory diet" that you can follow, almost all plant-based foods will add more of the nutrients you need for a healthy immune system and anti-inflammatory benefits. Here are some ways to make a few easy tweaks to your diet.
How to Eat Mostly Plants, Most of the Time
There are many other benefits to consuming a plant-based eating pattern that helps support our immune system. First and foremost — a plant-basted eating pattern does not equal a vegan diet. The essence of eating plant-based is about consuming mostly plants while also allowing room for occasional animal-based products like meat, poultry, or dairy.
The important thing to remember about a plant-based eating pattern is that a person is consuming mostly plants, most of the time. Getting enough protein on a mostly plant-based diet can be helped by eating legumes, nuts, seeds, and ingredients like tofu and tempeh.
Let's take a closer look at the foods that are included in the plant-based eating pattern. And, all these foods are also anti-inflammatory—a bonus!
Vegetables
These come in all colors, shapes, and sizes and we recommend varying the color of the vegetables you are consuming. Many anti-inflammatory properties reported in vegetables come from different colors.
Recommendations:
2 to 3 cups per day
"Cups" of vegetables mostly refers to a portion equal to one measuring cup for raw or cooked vegetables. For lettuce, spinach or other raw leafy vegetables however, 2 cups = 1 cup.
A medium carrot, celery stalk and small pepper each count as ½ cup.
If you don't want to measure, an average adult fist is a rough guide to a 1-cup portion.
Aim for one to two fist-size portions of vegetables at lunch and dinner each day.
Focus on color variation and aim to consume the rainbow of colors daily
Fruits
It's recommended to eat a minimum of 1.5 cups fruit per day. Like vegetables, be sure to vary the colors of fruits you eat to get as many anti-inflammatory properties as possible.
Recommendations:
1.5 cups per day
If you don't want to measure, an average adult fist is a rough guide to a 1-cup portion.
Add fruit to salads and main dishes
Choose fruit for dessert
Focus on color variation and aim to consume the rainbow of colors daily
Whole Grains
A whole grain is defined as having all three components of the grain still intact, i.e., the bran, endosperm, and germ. Whole grains contain more fiber, iron, zinc, manganese, and folate, among others. Examples of whole grains include brown rice, barley, and whole wheat pasta. Refined grains are missing one or more of these components and do not contain as many nutrients.
Recommendations:
Make ½ your grains whole grains. Examples of a serving include:

½ cup cooked rice, bulgur, whole wheat pasta or cooked cereal

1-ounce dry whole wheat pasta, or other dry grain

1 slice whole-wheat bread

1 small muffin – weighing one ounce

1 cup ready-to-eat cereal

When you're shopping for whole grain products, "whole grain" should be the first or second ingredient on a product's ingredient list
Look for the stamp given by the Whole Grains Council that certifies a 100% whole grain product.
Beans + Legumes
Beans and legumes are an excellent source of plant-based protein, as well as vitamins and minerals to support a healthy immune system.
Recommendations:
Consuming ½ -1 cup of beans and legumes 4-6 days a week will help to maintain adequate protein intake as well as fiber intake.
Nuts + Seeds

Nuts and seeds provide healthy fats to help us feel and stay full. Read more about the nutritional benefits of nuts and seeds.
Recommendations:
Consuming 1-2 tablespoons combined of nuts and seeds 4-6 days of the week.
The World of Nutrients
Plant-based foods contain lots of vitamins and minerals — many of which support new cell growth and maintain healthy cell function. They're also essential to maintaining a healthy gastrointestinal tract (GI) and reducing your risk of chronic disease and certain cancers.
While supplements may support health for certain people, it's important to know that plant-based foods are not only made of the nutrients that are available in supplement form. When you consume whole foods, you're getting a wide range of other nutrients, minerals, and phytonutrients, too. Taken together, foods give us even more tools to support a healthy immune system.
Here is a starting place for which foods to eat to get more cancer-fighting vitamins and minerals.
Vitamin C: Provides antioxidant activity to support healing at sites of inflammation.
Citrus
Broccoli
Kale
Swiss chard
Vitamin A & E: "A" Improves antibody function and T-cell activity. "E" is an important antioxidant for healthy inflammatory response.
Dark leafy greens
Carrots
Winter squash
Sweet potatoes
Vitamin K: Supports healthy blood-clotting function.
Cauliflower
Green vegetables like spinach and asparagus
Zinc: Supports T-cell function
Spinach
Asparagus
Seeds
Legumes
Iron: Improves antibody response and heals defective phagocytic cells.
Spinach
Swiss chard
Turmeric
Leeks
Romaine lettuce
Omega-3 Fatty Acids: diets low in omega-3 are associated with chronic inflammatory conditions and autoimmune diseases.
Sardines
Salmon
Ground flaxseeds
Leafy greens
Spices also play a role in boosting your immune system. Cinnamon, for example, is a known anti-inflammatory that stimulates production of digestive enzymes. Turmeric is a cancer-fighting spice that may also limit the impact of upper GI diseases like Irritable Bowel Syndrome.
Foods That May Increase Inflammation
When it comes to foods that are connected with producing an inflammatory response in your body, there are a few common culprits. Generally, it's recommended to limit or avoid consumption of the following foods:
Processed meats. This includes any meats that have been smoked, cured, or chemically preserved. Processed meats are the third leading dietary factor associated with cancer risk among American adults. Processed meats should be consumed as little as possible, if at all.
Red meat. This includes meat from mammals, including pig, cow, goat, lamb, etc. While there is nutritional value to certain animal proteins, research shows the cooked red meats can be carcinogenic. The recommendation for red meat is no more than 12 to 18 ounces of cooked meat per week. An ideal single portion of cooked meat is about 3 ounces, roughly the size of an adult's palm.
Trans fats. Research shows that trans fats can promote inflammation, increasing the risk of chronic diseases like cardiovascular disease and type 2 diabetes.
Making Sense of It All
A lot of information was just thrown at you, but at the core of the matter is actually pretty simple. Eat more plant-based foods, eat the Rainbow of Color, and be sure to vary the types of foods you eat to ensure you're getting as many phytonutrients and micronutrients as possible.
If you would like more information on how to incorporate plant-based eating into your life, contact a Registered Dietitian in your area.
Cancer Fighting Recipes to Reduce Your Risk
20 easy, delicious, colorful recipes to help you start making the most out of your meals and improving your nutrition.
Kate Ueland, MS, RD, specializes in oncology nutrition, primarily working with breast, ovarian, renal, and melanoma cancer patients throughout all stages of the cancer journey at Seattle Cancer Care Alliance (SCCA) in Seattle, WA. As Cook for Your Life's nutrition advisor and editor, Kate ensures all culinary content adheres to the Academy of Nutrition and Dietetics and follows science-based guidelines.
---